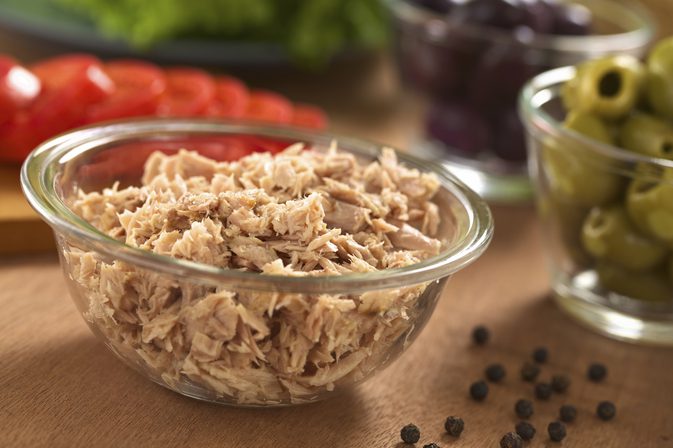 Q: We've got two pieces of tuna fish (they look a lot like steaks sized 2/3 of a hand) and we want to cook them. We have different spices, vinegar, oils, and a microwave oven (if you ask about a device). Is it possible to microwave tuna at all, and how to do that?
Why Do You Need Tuna in Your Life?
Tuna is a sea fish originating from the tropical and subtropical waters of the Indian, Pacific or Atlantic oceans.
Tuna is one of the biggest containers of proteins, omega-3 fatty acids, amino acids, vitamins A, B, E, PP, as well as different macro and microelements that a human being is in need of.
Its useful features include but are not limited to prevention of:
heart and kidney diseases
heart attacks
Alzheimer's disease
breast cancer
Tuna reduces inflammation in arthritis and normalizes heart rate, and decreases pressure.
This fish tastes especially good with herbs, olives, and lemon juice. In addition, canned tuna is used as an ingredient for cooking vegetable salads, pizza, or pie fillings.
How Can Tuna Fish Be Dangerous?
The matter is that tuna is a representative of the mackerel family, which means that it can accumulate mercury in parts of the body.
That's why tuna is not recommended to be eaten in large pieces, especially by pregnant women, who feel nauseous, as well as by breastfeeding women and adolescents.
These people are most vulnerable to the metal's toxic effect.
In addition, tuna is contraindicated in people with kidney dysfunction and allergies.
If your children haven't reached the age of 12, don't give them tuna as a food, otherwise, limit the portion to 100 g per week.
Tuna can cause food allergy that shows the following symptoms: dizziness, eye lacrimation, rash, edema of the larynx, breathing problems, nausea, and nasal congestion.
Can I Microwave Frozen Tuna?
We recommend that you use the microwave oven to defrost tuna (0.5 kg of fish needs 3-5 minutes at middle power or 6 1/2-8 1/2 minutes at low power).
Open the packaging. Divide the pieces and spread them on a platter.
Microwave at a defrost mode for half the required time.
Check the tuna to make sure that the less thawed pieces are on the outside and around the edges of the dish.
Proceed to defrost until the fish becomes flexible on the outside, although, its thick parts remain covered with ice. That's normal.
Let the tuna stand for 5 minutes. Then you should thoroughly rinse the pieces.
Simple Tuna Steak in the Microwave Oven
You will need:
2 tuna steaks
Salt
Ground black pepper
Lemon juice
Olive oil
Preparation:
Rub tuna steaks with salt and pepper and let sit in the fridge for half an hour.
Take it out of the refrigerator and sprinkle with lemon and oil.
If you have a baking sleeve for microwave ovens, use it. This is the best method of microwaving tuna (or any other moderate-fat content fish) if you don't want to lose its precious moisture.
Microwave tuna steaks for 3-4 minutes.
Two Sauces to Make You Long for More
Vinegar and Herbs. Take 2-3 sprigs of cilantro, parsley, and dill. Chop them finely, blend them well, and mash in a mortar. Add 1-2 teaspoons of vinegar, salt and mix well. You can also squeeze a garlic clove into the mixture.
Lime and Chili. Mix together 1 tablespoon of lime juice, 1 tablespoon of vegetable oil, 2 teaspoons of honey, 3-4 tablespoons of soy sauce, and a finely chopped clove of garlic. Add a small chili pepper.
Baked Tuna with Apples in the Microwave Oven
Ingredients:
Tuna fish filet – 400 g
Cream – 100 ml
Cherry tomatoes – 100 g
Apples – 2 pcs
Spring onions – ½ bunch
Lemon juice – 1 tbs
Cumin seeds – ½ tsp
Red and black ground peppers
Salt
Preparation:
Wash the apples and remove the core. Cut the apples into small pieces.
Rinse the tuna filet and rub it with salt and pepper, sprinkle with lemon juice and cumin.
Put the tuna with apples in a baking mold which is safe for microwaving, pour over the cream, and bake in the microwave oven for 6 minutes at 800 Watt.
While the tuna is being microwaved, finely chop clean spring onions and wash cherry tomatoes.
Sprinkle the ready tuna dish with green onions and decorate with cherry tomatoes.