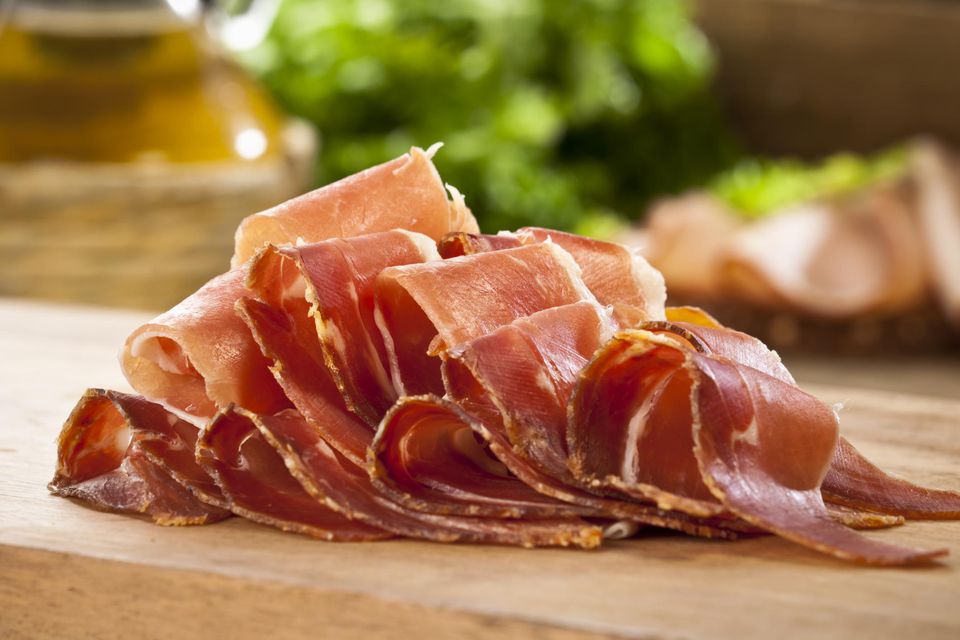 Q: My friends brought me prosciutto as a treat from Montenegro. And I was so happy that I didn't notice how I spoiled a good piece of it by microwaving. Something went wrong because my prosciutto transformed into the piece of meat which was impossible to chew. Maybe I had to cover it with the lid or something. What is the right way to microwave prosciutto?
The Secrets of Choosing and Cooking Prosciutto
All of us realize that prosciutto is not a cheap treat. It's really much more expensive than regular ham. Please choose and cook it with great care.
Some of the most common criteria for a good quality prosciutto are as follows:
It smells and tastes very good, not bitter
There's a layer of white fat on the top of prosciutto
The meat is tender pink or reddish
If you already have a relevant piece of prosciutto on your kitchen table, then do not rush to eat it all or throw it in the microwave oven directly.
A lot of worthy recipes will transform your prosciutto into a masterpiece.
How to Microwave Prosciutto?
In case you love prosciutto when it's crispy like chips, the easiest and the best way to make it so is to put the thin slices in the microwave oven.
Take a couple slices of prosciutto, place them on a paper towel and cover with another paper towel or parchment paper.
Send prosciutto to the microwave oven for 60 seconds at high power.
After that, let them stand for 2-3 seconds more to get crispy.
In case you wish to put the crisps off for later, keep them in a plastic container or bag at the room temperature. We bet you eat them immediately though.
If you don't have a paper towel, never mind. Take a plate and use a special spray that prevents food from sticking. Cover prosciutto with a piece of parchment paper and microwave for a minute and a half.
A 10-Minute Salad With Microwaved Prosciutto Crisps
This is a perfect treat for a hot summer day or when you are in no time but have all of the ingredients for this recipe.
Well if your local grocery store is just 5 minutes away, then it will take you less than 20 minutes to prepare this delicious dinner for guests.
By the way, we put the melon in the salad, so make sure you can buy it in your place.
Well, these are the ingredients we will need:
Prosciutto – 1 packet (100 g)
Melon – ½ (seed it, peel it and chop it coarsely)
Pistachios – ½ cup
Crumbled feta – 100 g
Baby greens – 8 cups
Ground pepper – ½ tsp
Salt – ¾ tsp
Honey – 3 tbs
Olive oil – 4 tbs
White wine vinegar – 4 tbs
Fresh mint – 6 tbs (chopped)
Preparation:
Prepare prosciutto crisps using the above-mentioned method.
Mix white wine vinegar with olive oil, salt, honey, and pepper, add mint.
Coarsely chop a half of melon and add it to the salad together with baby greens.
Microwaved prosciutto crisps will finish the composition. Place them on the top of a salad and decorate it with feta cheese and pistachios.
Why Do We Call It Prosciutto?
Prosciutto is an Italian word for ham. It's that simple. And prosciutto comes from Italy.
The ham is prepared in accordance with a special recipe and appears as prosciutto on thousands of restaurant menus around the world.
Prosciutto can be cooked in two ways: Crudo (naturally dried) and Cotto (slowly steamed).
Prosciutto… Doesn't it sound marvelous? And is it good for health?
Just like any other meat, prosciutto contains useful and healthy substances. Still, there are no particular benefits for the human body.
Prosciutto is more often used as a yummy treat. If you prefer eating healthy food then think of choosing another meat product.
Yet some minerals are still present in this food and they are calcium, potassium, magnesium, sodium, phosphorus, iodine and iron.
Some of them are good for the cardiovascular system and acceleration of growth of the body during the maturity stage.
Oh yes, if you are an athlete who wants to gain muscle mass, prosciutto has a lot of protein which is just perfect for you.