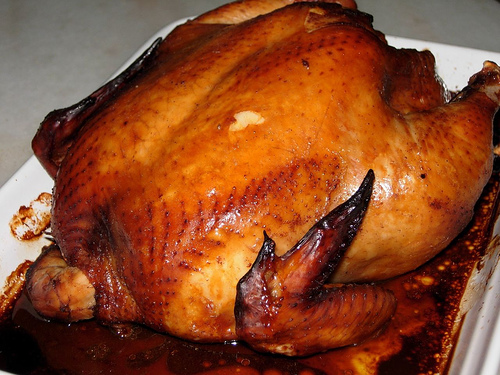 Q: People who have invented microwaves were visionaries since they predicted how fast our lives would be (and today they really are very fast) and thus gave us microwaves enabling us to prepare our chicken really fast.
How to Microwave a Whole Chicken?
Chicken can be cooked in a microwave for a much shorter time than in any other conventional way and in many different ways. Here, we are going to tell you only about the ways we have personally tried.
If you want to cook a whole chicken in your microwave, you will need a microwave-safe bowl which is deep. You will have to place the whole chicken into the bowl and cover it with lid. Of course, there will have to be some room for the steam to come out of the bowl while cooking. If the steam is trapped under the lid, you may have an explosion, so be careful.
You should not forget to defrost your chicken prior placing it in the bowl because it will make the process faster and allow the temperature to reach all the parts of your chicken equally.
Of course, it can be used frozen but we don't recommend it since your meat might not be cooked evenly – some parts may be even burned while the middle stays raw. So, for the best results, it is better to eliminate the ice from the meat completely.
It is not necessary to add water to the bowl but you can if you want to, just don't forget to enable steam to come out of the bowl.
After adding all the spices and herbs you like, you can cover the bowl with lid and place it in the microwave.
Cooking process should last about 30 minutes, not more than that, at the medium-to-high temperatures. It would be an ideal situation if you had a microwave which offered specific settings for cooking chicken. If not, just set it at medium temperature and let it cook for 28-30 minutes.
How to Microwave Chicken Breasts?
Defrost your meat, place it on a microwave-safe plate and add some seasoned salt over it. According to your preferences, you may sparkle your meat with salt or cover it completely for a stronger taste. Then place your meat in the microwave and cook it for about 15-20 minutes depending on the type of the microwave you have.
We would suggest cooking your chicken meat for 18 minutes at medium temperature, but you could also cook it at a high temperature or low temperature. Of course, the lower the temperature the more time you will need to prepare your meat properly.
Stuffed Chicken Can Be Cooked in a Microwave
You will need a medium-sized chicken. Defrost your chicken and fill it with a stuffing. For the stuffing, you will need:
1 chopped garlic,
1 chopped onion,
grinned pepper,
1 cup of chopped bacon
1 tbsp salt
Rosemary
Timing
You should mix all these ingredients well and put them into the chicken. Don't forget to tie the chicken's legs together to keep the stuffing inside while cooking.
Then you should add salt, pepper and some oil over the chicken and rub it well. Place your chicken on a plate or a grill and put it in the microwave. It should be cooked for 35 minutes at the medium-high temperature.
After 35 minutes, take your chicken out of the microwave and check its temperature with meat thermometer. If the temperature is not the same in all the parts of the chicken (at 70 degrees Celsius, or above), return it to the microwave for 5 minutes more at the high temperature.
Your own experience will tell you when the meat is ready, so look at it carefully, since not all the microwaves have the same settings. We have given you these directions according to our personal experience, but still, your microwave can be of lower or higher overall wattage.