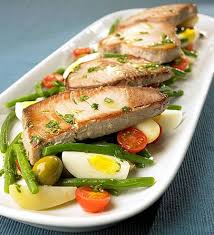 Q: Fish cooking recipes in the microwave oven are as varied as the fish names. In each area, there are river and sea delicacies, which require different cooking approaches. What are the basic nuances of how to cook halibut in the microwave?
Can I Microwave Frozen Halibut?
We recommend that you prepare the fish first. You need to defrost it a little before cooking.
Do this in a special vessel with a stand and a latticed bottom which will not allow the melting ice to "ruin" the halibut.
Find a plastic container with a grille and a sealed lid.
Place the fish in a container and cover tightly, since a specific smell can remain in the cell for a long time.
Then put the container in the microwave oven.
Please, make sure that you do not use the foil in the microwave or use only special microwaveable foils.
Set the microwave to defrost or, if there's no such option in your device, to the lowest power for 5-15 seconds.
After the timer has switched off, don't take out the halibut immediately. Give it a minute to stand in the microwave oven to get to the readiness.
Of course, you don't want to cook the fish like that, you just need it thawed.
What's So Special about Microwaving Halibut?
In any case, the halibut should be microwaved in a cooking bag. This can be a special sleeve as well as a food film.
Unlike meat, halibut requires some vacuum.
The halibut is usually cooked in the microwave oven for 5-7 minutes. But in case the fillet is too tender and thin, set the microwave device to 1-2 minutes.
You might wonder whether or not you should salt halibut. It is better microwaved unflavored since the salt absorbs water so you can receive a dry piece of fillet.
If the halibut is already marinated, then it's also possible to microwave it.
Halibut with Mayonnaise Classical Recipe
Ingredients:
Halibut Fillet
Butter – 10-15 g
Mayonnaise – 20 g
Onion – 1 pc
Lemon, balsamic or apple vinegar
Cheese – 20 g
Preparation:
Cut the onion into thin rings and soak in the lemon juice or vinegar.
Wrap the halibut in a piece of food foil and bake in the microwave oven for 1-2 minutes.
When it's ready, take off the film, place halibut on a dish, and sprinkle with salt.
Top the fish with onion rings, herbs, and dried ground garlic. Pour over the mayonnaise and sprinkle with grated cheese.
If you like, you can mix the cheese with mayonnaise and spices in a separate bowl and use this sauce to rub the fillet.
After that, you should microwave the dish again for 1-2 minutes at full power. This is how you get an appetizing crust.
Roast-Baked Halibut in the Microwave Oven
Ingredients:
Halibut (dry frozen carcass) – 1 kg
Sour cream (or any other fermented milk product) – 200 g
Salt
Pepper
Cheese – 50 g
Eggs – 2 pcs
Flour or breadcrumbs
Preparation:
Defrost halibut so that there's some ice left in the thick parts, scale it, and cut into portions.
Salt and spice the fish, and dip it in the sour cream or any other fermented milk product.
Let it stand overnight in the fridge.
Your next step is to prepare a batter or liaison. For this, whisk two eggs with milk or cream.
Roll the halibut in flour, then in the batter, and then roll again in flour or breadcrumbs.
Fry on a hot pan to a ruddy crust.
Replace the halibut to the microwaveable baking tray and top each piece with cheese.
Switch on convection mode and microwave for 10 minutes at 700 Watt.