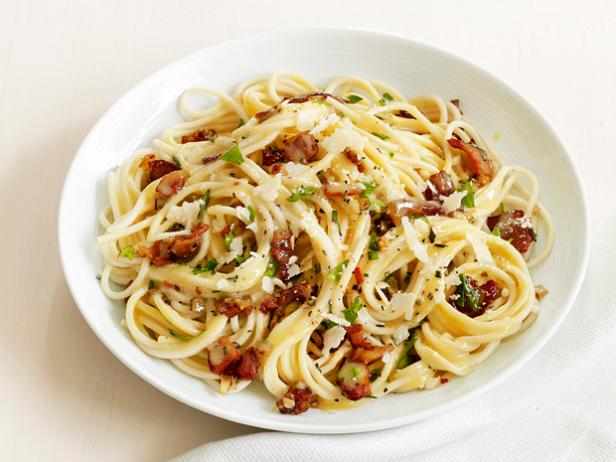 Q: Italian pasta is a mode of life for many people. We are not an exception. We owe the Italians appearance of spaghetti on our tables. The first suchlike pasta was up to 50 cm long, but today it does not exceed 15 centimeters. Therefore, it can go in the microwave oven! How to cook an outstanding spaghetti using a microwave?
What Is Spaghetti?
Spaghetti is a universal type of pasta that can be served with grated cheese or olive oil and chili powder, or you can try all the famous sauces like bolognese, carbonara, marinara, creamy sauce with mushrooms or shrimps, seafood and a variety of cheeses.
Perfectly combine spaghetti with baked vegetables, fresh herbs, bacon, and cream.
When preparing the dish, one thing is very important to remember: you should boil the spaghetti and prepare the sauce at the same time so you connect them hot.
Real spaghetti is made of the durum wheat flour and pure spring water. The wheat flour of the highest grade in the contents means that's spaghetti-shaped pasta, not spaghetti.
It's good to have a special spaghetti cookware which is a narrow pot with high walls (spaghetti is boiled unbroken when it's completely dipped in boiling water and mixed).
Cooking spaghetti takes no more than 8 minutes.
The product tastes bad when overboiled, and the benefits of such spaghetti are controversial.
How to Microwave Spaghetti Using Special Tupperware Container?
A special Tupperware spaghetti pan is an absolutely amazing thing that we hope you have in your kitchen if you are a spaghetti fan.
This is a multifunctional container that can be:
A dosing/cooking container
Colander
Serving dish
Storage tank
The instructions for cooking spaghetti as well as ravioli are laid on the inside and outside of the lid and base.
Using this container means you don't need to stir the ingredients or change the power settings of the microwave oven.
The temperature ranges from 0 to 120 degrees Celsius (800 Watt max).
It usually takes no more than 8 minutes to cook spaghetti.
Cooking in the pan is easy enough:
Pour cold water into the container with pasta, and put the container in the microwave oven without the lid
When ready, cover the container and drain water without any colanders or other appliances.
The remaining spaghetti can be stored in the same container in the fridge.
Boiling Spaghetti in the Microwaveable Dish
Ingredients:
Spaghetti – 200 g
Boiling water – 400 ml
Vegetable oil – 1 tbs
Salt to your taste
Preparation:
Boil water in the microwave oven (take enough water to top spaghetti by 2-3 cm when you drown them).
When the water boiled, salt it and add a tablespoon of oil. Put spaghetti inside.
Stir and microwave at middle power for 10 minutes.
Is Spaghetti a Healthy Food?
The real spaghetti is healthy and useful. It contains many vitamins and mineral substances like Vitamin B1, B2, B6, B9, E, and PP, as well as potassium, calcium, magnesium, iron, phosphorus, and sodium.
Spaghetti enhances mood due to the appearance of tryptophan amino acid that is responsible for the production of happy hormones.
Baked Spaghetti with Sausage and Cherry Tomatoes
Ingredients:
Spaghetti – 200 g
Semi-smoked sausage – 200 g
Cherry tomatoes – 8 pcs
Eggs – 2 pcs
Butter – 40 g
Breadcrumbs – 40 g
Olive oil – 10 ml
Curry – 2 tsp
Basil – 1 bunch
Salt
Preparation:
Boil spaghetti using the above-mentioned method and add butter.
Wash cherry tomatoes. Whisk eggs with curry and salt.
Cut the sausage into thin slices. Wash and chop a bunch of basil.
Oil the mold with olive oil and put spaghetti. Top it with cherry tomatoes and sausage rings.
Pour in the egg mixture and sprinkle with breadcrumbs.
Bake the dish in the microwave oven for 3 minutes at full power.
Sprinkle with basil before serving.