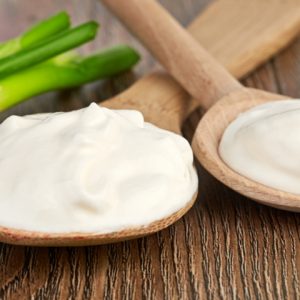 Q: Do you often use sour cream as a dressing or a sauce for so many dishes? It is also one of the ingredients to make super delicious cake creams. What is more, sour cream is one of the most important dairy products for kids, and some of them like it heated. As the sour cream is usually kept in a fridge, people often wonder if they can microwave it. Let's get to know together.
How to Heat Up Sour Cream in a Microwave?
The most important rule here is 'warm up is better than overheat'. Here are a few simple steps you should follow to get your portion of sour cream perfectly heated up in a microwave:
Choose low-fat or full-fat sour cream, because the nonfat product can curdle easily
Always use an oven glass plate to heat up sour cream
Count the tablespoons of sour cream you are going to heat up
Each tablespoon should be heated up for 15 sec at high powers or 20 sec at low powers (e.g. 5 tablespoons = 1 min 15 sec at high temperatures)
Control temperature and time
Think of yourself as a chief cook doing a life experiment: try to microwave 1 tablespoon of sour cream and see how it works exactly for you
If your sour cream is not yet warm enough, take 3-5 second intervals to bring it to the right temperature
Stop to microwave and use as needed (prevent adding warm sour cream to hot dishes where it can easily curdle, or stir a small amount of hot liquid into the sour cream to temper it!)
Is it Healthy to Microwave Sour Cream?
In fact, dairy products have useful and harmful bacteria in them and they usually get destroyed under the influence of high temperatures. Sour cream is no exception.
It is highly recommended that you use only fresh sour cream and not microwave it for too long. Better take smaller amounts of sour cream and heat them up separately in portions at lower temperatures.
Never use the original container for sour cream that you bring from a supermarket or a dairy shop. Although some types of plastic and glass can be put in the microwave, you probably don't want to get your sour cream filled with toxic substances, especially when you cook for children.
Can I Add Sour Cream to My Microwave Omelette?
Sure. Follow these easy and time-saving instructions to make the right sour cream omelet in your microwave.
List of products:
1 tablespoon of sour cream
1,5 tablespoons of milk
1 egg
¼ wheat bread (French baguette will be just perfect)
Salt
Pepper
Herbs
Mustard (ready)
In a middle-size mug, mix sour cream with the egg, milk, spices, and little mustard. It's better to use a fork. Then you need a finely chopped bread/baguette and ham which you also add to the mug.
Voilá! Microwave it for just 1 minute and decorate with your favorite omelet herbs.
How to Microwave Potato with Sour Cream?
Would you like something really tasty and simple for dinner? It was never so easy.
Take 3 tablespoons of sour cream (15%). Peel 1 pound of potatoes and cut them into thin strips.
Put them in a glass microwave container, pour 2 cups of water into it, and microwave for 8 minutes at full capacity.
Take out the dish, pour off the water and add salt, 1 finely chopped or stripped medium onion, and mix it all.
Then add 3 tablespoons of 15% fat sour cream and mix again evenly.
Grate 100-150g of cheese on a large or small grater and mix the 2/3rd part of it with potato. Sprinkle the remaining cheese on top.
Put in a microwave and cook for another 20 minutes.