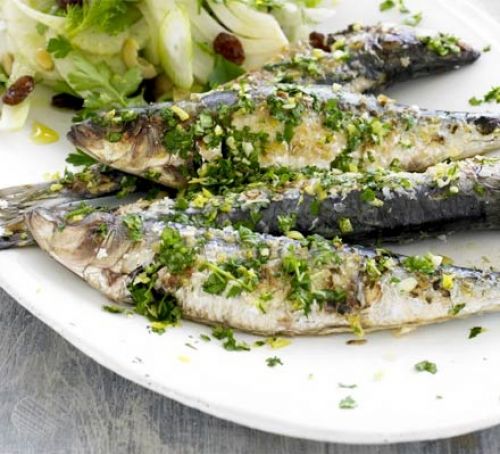 Q: We usually answer our readers' question about the possibility to microwave this or that product. Now we faced an issue ourselves: can we microwave sardines? This sort of fish tastes so well when preserved. What about frozen or fresh fish? Does it go in the microwave, yet remains healthy and rich in flavor?
How to Microwave Sardines?
Cook the sardines following this recipe and remember it when you need to microwave sardines delicious and in no time.
Sardines can go in the microwave and the result will be a hot, yummy and good smelling dish.
You need:
Sardines – 1 kg
Garlic- 4 cloves
Butter – 100 g
Parsley – 1 bundle
Capers – 1 tbs
Sour cream – 2 tbs
Salt
Lemon – 1 pc
Wash the lemon in hot water and zest it.
Squeeze the juice.
Cut the garlic into large pieces and grind with salt.
Add butter and herbs, mix and microwave for 1 minute at full power.
Clean out the sardines, salt, and pepper both their outer and inner parts.
Sprinkle with lemon juice.
Place the sardines in a heat-resistant bowl and pour over the hot mixture of garlic and herbs.
Cover with the lid and cook for 4-5 minutes at full power.
Turn the sardines on the reverse side and microwave again for 5 minutes.
Uncover the lid and bake 5-6 minutes at the highest power.
Add capers, lemon juice and sour cream to the remaining sauce, stir it well and salt.
Pour the sardines over with the sauce and serve to your family or guests.
A 5-Minute Hot Sardine Sandwich in the Microwave Oven
Sure. This is a good idea for a busy breakfast or a lunch in the office.
Here's the fastest recipe that will take only 5 minutes of your time.
Ingredients:
Bread – 2 loaves
Preserved sardines – 100 g
Banana – 1 pc
Cheese – 2 slices
Mayonnaise – 2 tbs
Dill
Paprika
Preparation:
Top the loaves of bread with banana slices.
In a bowl, mash the sardines with a fork, add mayonnaise and finely cut dill, then mix thoroughly.
Place this paste on top of the banana slices, cover with a piece of cheese and sprinkle with paprika.
Bake for 1 minute at full power.
A 10-Minute Hot Sardine Sandwich in the Microwave
Preliminary processing:
Hard-boil eggs. Rinse sweet pepper and clean it from seeds and stems. Peel onions.
Basic processing:
To prepare sandwiches with sardines in the microwave oven, you must first prepare a fish mass.
Place the sardines in a separate bowl and mash with a fork.
Cut sweet pepper into small cubes, and finely chop the onions.
Carefully mix and salt the sardines, onions, and pepper.
Use a square (toast) bread for sandwiches. If you don't have it at hand, cut any bread into the same square slices.
Cut the eggs into rings, and the cheese into thin slices.
For each sandwich, you will need two bread slices. Spread fish mass in one slice, top with 1-2 rings of egg and a piece of cheese, cover with the second slice.
Put the prepared sandwiches in the microwave and cook for 2-3 minutes at maximum power.
How Can Sardines Help or Harm My Health?
Sardines are fatty sea fish named after the island of Sardinia. Sardines are used for:
Fish fat extraction
Preservation (in oil, own juice, tomato or mustard sauce)
Salting
Sardines are good for health if you have:
Increased cholesterol level in blood
Inflammations
Arthritis or asthma
Weak nerves and bad memory
Heart diseases
Lack of Vitamin B12, D, calcium, and phosphorus
Although sardine cannot bring much harm to the human body, you should limit its consumption if you are among the people:
With individual intolerance of any fish product
Suffering violation of water-salt metabolism
Prone to salt deposition in the body
With constant high blood pressure (that is, hypertensive patients, to whom this type of fish is generally prohibited)
People who are overweight (because of the high caloric content of the product)
In case you have problems of the gastrointestinal tract, give preference to stewed sardines or those with the addition of tomatoes.