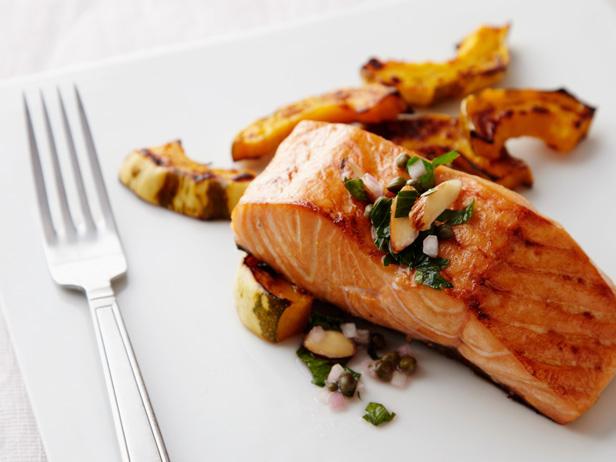 Q: What if salmon loses most of its useful properties when it goes in the microwave? Many people believe that the microwave oven changes the chemical structure of the products. We think that this is no more than a point of view, and the chemists say this is not true. But if you are still concerned about microwaving salmon that is one of the extremely popular sorts of fish, let's sort it out together.
How to Microwave Salmon?
Salmon is said to be one of the most popular, dietary, and delicious sorts of fish.
It is so easy to cook and looks beautiful on the dish.
So many cooking methods apply to this fish, like frying or baking steaks and serving them under various sauces and garnishes.
A microwaved salmon steak might be one of the easiest ways of cooking this fish fast.
We will tell you how to prepare an amazing sauce to emphasize the salmon's taste.
Also, salmon comes out really delicious under teriyaki sauce with noodles. This traditional Japanese sauce will give salmon a superb taste.
Another winning recipe for a dietary dish, which will help you to diversify your diet, is the salmon on spinach and cream bed.
What else can you cook to amaze your guests? Italian panzanella with salmon and green beans. Yummy.
Can I Cook Salmon Steak in the Microwave?
To prepare a salmon steak in the microwave oven, you will need:
Salmon steak – 2 pcs
Lettuce – 4 leaves
Lemon – 1 pc
Mayonnaise – 4 tbs
Pickled gherkin – 2-3 pcs
Capers – 1 tbs
Dill – 1 sprig
Salt
Black pepper (freshly ground)
Preparation:
Wash salmon steaks under running water.
Cut the lemon in half and squeeze the juice out of one half.
Put the steaks in a heat-resistant bowl. Sprinkle with lemon juice, salt, and pepper on both sides.
Cover with the lid and bake salmon in the microwave for 6 minutes at high power.
Meanwhile, cook the tartar sauce. Finely chop the gherkins, capers, and dill, then mix them with mayonnaise in a small container.
Wash lettuce and dry with a paper towel.
Lay 2 lettuce leaves out on each plate, and top with salmon.
Cut the remaining lemon into slices and decorate the steaks.
Add the sauce immediately before serving.
This salmon tastes especially good with a side dish of fried potato or boiled rice.
How to Microwave Salmon in Sour Cream?
This is one of the easiest methods of microwaving salmon. Besides, sour cream adds a special flavor to the dish.
Ingredients:
Salmon fillet – 700 g
Flour – 1 tbs
Onion – 2 pcs
Fresh dill – 1 bunch
Water – 1 glass
Sour cream – 1/2 cups
Salt
Pepper
Preparation:
Wash salmon and dry it with a paper towel. Cut into small pieces.
Put salmon in a microwave-safe container.
Cut onions into half rings and lay on top of the fish.
Sprinkle with fresh dill and mix sour cream with water. Salt and pepper, then pour into the mold.
Put in the microwave and cook for 10-15 minutes, depending on the power.
Is Salmon Healthy to Eat?
Salmon has gained popularity due to Omega-3 fatty acids. Recent studies have shown that salmon contains few bioactive peptides that control digestion processes.
Salmon contains Vitamin B12, D, B3, Omega-3, Protein, B6, and Biotin.
Salmon is an ideal food for those who monitor their health.
To manifest salmon's useful properties, eat the fish regularly.
Salmon is best absorbed with vegetables and acts as an antidepressant.
Omega-3 fatty acids prevent inflammation in the stomach and help to recover from illnesses.
Even your brain will function better at the regular consumption of salmon.
Salmon slows down the aging of the body, so women aged 35 and elder are recommended to consume salmon 3 times a week to prevent wrinkles and much, much more.
Enjoy the simple methods of microwaving salmon and stay healthy.