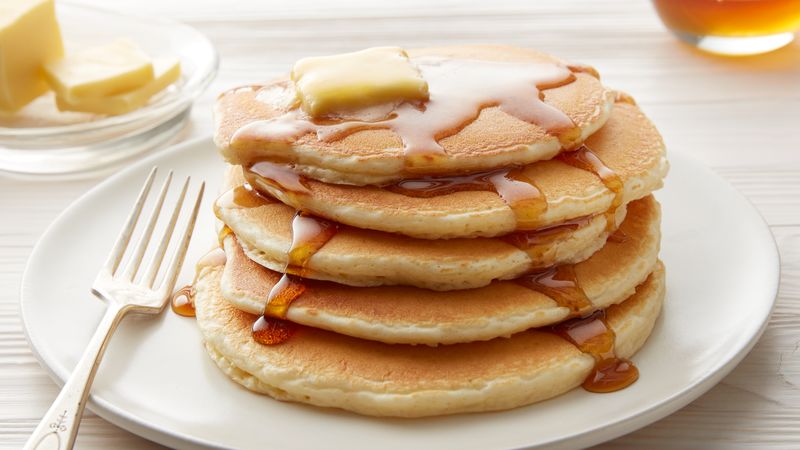 Q: For me, pancakes are always associated with a Sunday morning or a birthday, where I'm not the one who is supposed to have rest. They take way too much time to cook, so I would leave the pancake recipe for some special dates when I would be in a proper 'pancake' mood.  Now that my brother has brought me a microwave oven to improve my living, I think of maybe microwaving the pancakes too. Do you believe that's possible? That would be amazing.
Microwave Frozen Pancakes
Oh yes, what a marvelous idea! That's what you've definitely been looking for. Frozen pancakes are sort of a pre-cooked food that you just unpack at home and defrost to make eatable.
If you are a businessman or woman, always in no time to impress your friends with a portion of hazelnut or banana pancakes sprinkled with chocolate chips, then the pancake manufacturers know the way out.
The processed pancakes with different tastes are pre-cooked and frozen, i.e. all you need to do is to microwave them and amaze your guests.
The pancakes retain all their useful and valuable nutritional properties thanks to a special method of freezing.
A rather long shelf life is one of the main advantages of the semi-finished product.
However, we don't always know how to properly microwave pancakes.
That's not a secret that today you can buy frozen pancakes with absolutely different fillings, like:
Berries
Cottage cheese
Mushrooms
Forcemeat
Dulce de leche
Veggies
Fruits
Before you microwave one or a few kinds of the above-mentioned pancakes, make sure that they are not too frozen, like they are not covered with ice. If so, just place them on a plate and put in the microwave at the Defrost mode. This is a good method of defrosting pancakes if you want to fry them in the pan.
In order to defrost and cook the pancakes in the microwave oven, put them in a large dish and set the timer to five or six minutes.
Microwave Pancakes in a Mug
Frankly speaking, the ready dish does not really look like a traditional pancake, although the recipe for these mug pancakes recalls a dish to which we are all accustomed.
Ingredients:
Butter or vegetable oil – 2 tbs
Oat flour – 2 tbs
Wheat flour – 2 tbs
Egg – 1 pc
Milk – 50 g
Baking soda – ½ tsp
Jam/syrup – optional
Preparation:
Warm up the butter or the vegetable oil in the microwave oven for 13-15 minutes (to learn more about microwaving vegetable oil or butter, please, visit our corresponding page).
Add oat and wheat flours, an egg and 50 grams of milk.
You can also mix in your favorite syrup or jam.
Having obtained a homogeneous mass, add baking soda and stir the mixture again thoroughly.
Pour the mass in the mug and microwave for three minutes.
When the timer turns off, do not open the door of the microwave. Let the mug sit on the device for two minutes.
Many people prefer it topped with fruits, jam or chocolate.
Pancake Pie with Forcemeat in the Microwave
Pancakes can not only be sweet. Here's a marvelous recipe for spicy pancakes with forcemeat.
Ingredients:
Pancakes – 6 pcs
Forcemeat – 250 g
Mushrooms – 250 g
Cheese – 200 g
Egg – 1 pc
Mayonnaise
You might wonder why there are pancakes among the ingredients and where to get them. Easy, you just microwave them first according to the traditional recipe.
Prepare your favorite batter and microwave pancakes on a heat-resistant plate for two minutes at full power.
Six pancakes are just the right number to cook this delicious lunch or dinner, but of course, you can make it smaller or bigger meeting your needs.
Salt and pepper the forcemeat, add spices, and onion to your taste then fry it.
Mix the meat with fried mushrooms, add one raw egg, and grated cheese.
Grease the first pancake with mayonnaise, top with the stuffing, sprinkle with grated cheese and repeat the steps until you've got no pancakes.
Sprinkle the last pancake on the top with cheese and bake the pie in the microwave oven for 7 minutes or a little bit longer.