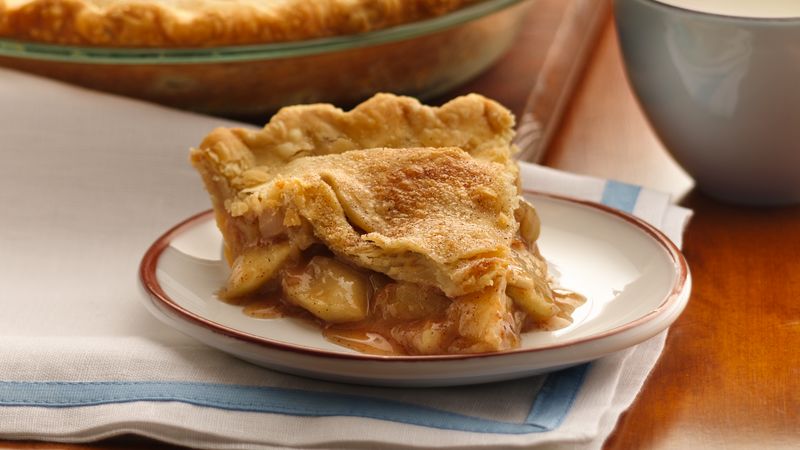 Q: My friend is that kind of person who always eats the last apple on the plate and then regrets about not being able to bake an apple pie because there are no apples left at home. I'd never take her seriously, because how could you cook an apple pie out of one apple only? Then I bought a microwave oven and things changed. Now could you please give me any ideas on how to microwave apple pies out of one apple (or more)?
Microwave Mug Apple Pie with Cinnamon
One of my favorite desserts, simple and absolutely complete, it requires іthe minimum of products and efforts. Try it once and love it forever. This unique apple pie with cinnamon is microwaved in a mug for as little as two minutes and can be served right away to please your friend or sibling.
Ingredients:
Apple puree – 2 tbs
Cut apple – 2 tbs
Flour – 4 tbs
Baking powder – ½ tsp
Sugar – 2 tbs
Milk – 1 ½ tbs
Cinnamon – a pinch
Preparation:
Take one peeled apple and cut it into small cubes.
Take a microwave-safe mug and mix all of the ingredients there, apple exclusive. In the end, add the apples and mix it all.
Microwave at full power for just a minute, and then check readiness with a toothpick. If the mug apple pie is not ready yet, add another 15 seconds to microwaving time and check again. Because all the microwave ovens are different, the preparation time might vary, that's why we recommend that you use this 15-second method to microwave your apple pie until readiness.
Just make sure you don't overdry it.
The decoration of a ready apple pie is totally up to you. You are free to use cocoa powder, cinnamon, grated chocolate or whipped cream.
Microwave Layer-Cake with Apples
This recipe will take 5 minutes of your time to mix the ingredients and make a batter, and the microwaving process will take around 6 minutes.
For the dough, you will need:
Flour – 1 cup
Margarine – 100 g
Water – 5 tbs
Starch – 1/2 tsp
Salt – 1/2 tsp
Filling consists of the following:
Apples – 5 pcs
Lemon juice – 1 tbs
Sugar -1/2 tbs
Flour – 2 tbs
Cinnamon – 1/2 tsp
For topping:
Butter – 50 g
Flour – 1/2 cup
Sugar – 1/4 cup
Grated nutmeg – 1/2 tsp
Prepare chopped puff pastry (as for a meat pie), roll it into a flat cake 4-5 mm thick, lay out on a dish, pierce with a fork in several places, and form the ledges.
For the filling, then peel the apples and cut into small cubes. Add sugar, flour, lemon juice, cinnamon and mix it all until the mass is homogeneous.
Spread the filling on the dough, cover with a smooth layer of topping, prepared from butter, chopped with flour and sugar and mixed with nutmeg.
Bake in the microwave oven for around 6 minutes at full power.
Apple and Caramel Pie in the Microwave Oven
This is just an amazing recipe for breakfast as well as a dessert. The microwave apple pie with caramel and nectarines or any of the fruits you like is a part of the European cuisine and cooked for only 15 minutes.
Ingredients:
Boiled water – 3 tbs
Milk – 125 ml
Butter – 75 g
Flour – 10 tbs
Baking powder – 1 tsp
Apples – 4 pcs
Sugar – 8 tbs
Eggs – 3 pcs
Nectarine – 1 pc
The structure of this apple pie reminds a little of a sponge and the caramel is not thick but sauce-like thanks to butter.
You can substitute nectarines with other seasonal fruits like bananas, pears, cherries, berry mixtures etc. It depends on your taste. You can even substitute the apples if you wish to.
It is highly recommended to serve this microwave apple pie with a cup of milk.
Preparation:
Wash and peel the apples and the nectarine, cut them into big pieces.
Take a baking mold for the microwave oven and put 6 tablespoons of sugar and 3 tablespoons of boiled water there. Microwave this mixture for 4 minutes at 800 Watt.
Whisk the eggs with 2 tablespoons of sugar.
Pour milk into the egg mixture and stir well.
Add flour with baking powder.
Take the caramel out of the microwave oven.
Cut butter in pieces and top the hot caramel.
Put the pieces of apples and nectarine, cover them with the batter and microwave for 10 minutes at full power.
When you turn the apple pie upside down to get it out of the baking mold, the caramel will be at the top.
Serve the pie with milk, tea, or coffee.