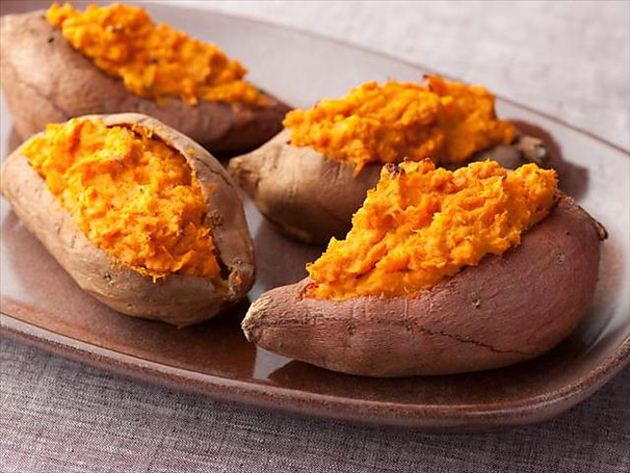 Q: Sweet potato is not the kind of food that we often prepare for a lunch or dinner. Although, many of my friends like it. I must admit that I have never paid much attention to this vegetable. Well, now I am really interested in this kind of food. I use a microwave oven only, so can I cook sweet potatoes there?
Is Sweet Potato Really Sweet?
Sweet potato is rich in vitamins and microelements.
One boiled medium-sized sweet potato contains four times more of the person's daily need for vitamin A than a regular potato does.
It contains calcium, potassium, and iron.
If you fight spring vitamin deficiency, try to include this useful and tasty vegetable in your diet.
Of course, sweet potato can go in the microwave oven and there's nothing easier than boiling it.
There are three types of sweet potato: fodder, dessert, and vegetable.
Fodder varieties have a white flesh, and their taste is somewhat watery.
Vegetable varieties have a sweet taste and yellowish flesh, while the dessert varieties are red or pink, and taste sweet and sated.
The dessert varieties of sweet potato taste like melon, banana or chestnut.
You can eat it raw, baked, or boiled.
The manufacturers use sweet potato to produce pastille, chips, cereals, and souffle.
This vegetable is also used to produce flour with a high content of alcohol, molasses, and starch.
How to Boil Sweet Potato in the Microwave Oven?
As we have already mentioned, boiling sweet potatoes in the microwave oven is the easiest you can do.
We recommend you to follow this simple and super fast method.
Take as many sweet potatoes as needed and wash them thoroughly.
Put clean potatoes in a microwaveable plastic bag and make a few holes with a knife.
Microwave the potatoes for three minutes at full power if the potatoes are small or medium-sized (bigger tubers need to be boiled for a longer time).
You can salt and pepper it, or add any sauces you like. Otherwise, cut the potato into small cubes, slices or
sticks, and grill them, or mix in a salad.
Microwave Grilled Spicy Sweet Potato
When you are waiting for friends to watch another soccer match, make sure that you have something tasty and crispy to suggest. Cook this spicy sweet potato and enjoy it with beer.
Ingredients:
Sweet potatoes (peeled, medium-sized) – 2 pcs
Olive oil – 2 tsp
Paprika – 5 tsp
Black ground pepper – 5 tsp
Salt – 5 tsp
Preparation:
Wash, peel, and boil the sweet potato in the microwave oven (3 minutes at high power or 6-8 minutes at middle power).
You can check the readiness by piercing it with a fork. If you don't face difficulties doing that, then the sweet potatoes are boiled well.
Preheat the grill to medium temperature.
Let the sweet potatoes cool down, and cut each into 8 lobules.
Prepare a mixture of salt, pepper, and paprika.
Grease each lobule with olive oil and dip in the mixture.
Grill the sweet potato for three minutes until crispy.
Sweet Potatoes Stuffed with Cheese and Sour Сream
Ingredients:
2 medium-sized sweet potatoes
85 g of diced bacon
2 tbs of low-fat sour cream
3 tsp of chopped green onion
2 tbs of grated cheddar or other cheese
Preparation:
Pierce the potatoes with a fork and boil them in the microwave.
Take the tubers out, and cut each of them in half.
Get the flesh out with a spoon and don't throw it out.
Mix the flesh with bacon, sour cream, and onion.
Stuff potatoes with the filling and sprinkle with grated cheese.
Microwave the dish again for three minutes.
Why Do Some People Avoid Eating Sweet Potato?
Sweet potatoes are rich in vitamins, microelements, and fiber.
But some people refuse to consume this vegetable.
The reason is that the sweet potato has a bad influence on people with various peptic ulcer diseases.
The vegetable is known for irritating the mucosa of the digestive system.
You should also avoid eating sweet potatoes if you are pregnant or breastfeed.