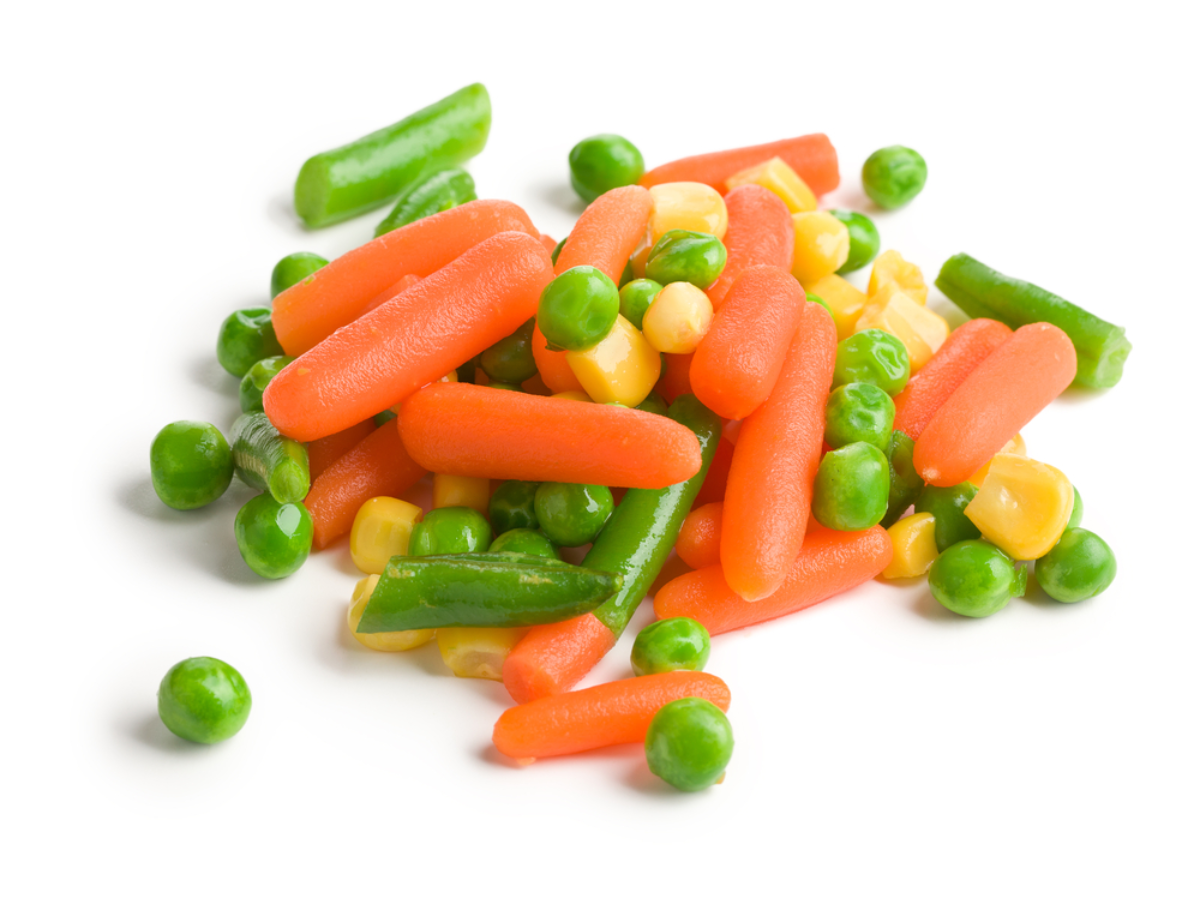 Q: What a lucky guy you are if you love cooking, or if you have someone in your house who loves it. Some lazy fellows would also enjoy having you by their side, in case the kitchen things are too much difficult for you. You buy a microwave oven and start posting questions like, "Is there a fast and edible something that I can cook there?" Like frozen mixed veggies, you mean?
How Are The Vegetables Frozen?
Frozen vegetables have always been a part of a healthy diet. They are a perfect decision for winter meals when you can't find many of the fresh products on the supermarket shelves.
The technology of freezing vegetables itself allows them to remain healthy and nutritious.
The manufacturers of frozen mixed vegetables do the following:
Gather veggies from the fields of their own or collect them from private households
Deliver them to the plant where the vegetables are being sorted out by size, color, and freshness
The vegetables are then cleaned, washed, and parboiled
A special machine cuts the vegetables and mixes them
Freezing at -30 degrees Celsius is a final stage
After that, the products get packed and transported to the seller
You don't need to busy your brains if you are willing to go to the supermarket and buy a packet of frozen mixed veggies.
If you want to be 100% sure of the quality of product and freeze some of the vegetables at home, then you need to learn a few tips and tricks to do that right and save most of the useful substances.
The four keys to successful freezing vegetables at home are:
Temperature from -18 to -23 degrees Celsius
Small volumes of vegetables
Relevant tableware and packaging
Marking
The steps you need to take before freezing are quite similar to the above-mentioned.
You must sort out the vegetables, wash them, dry, cut into pieces and freeze separately or mix together.
How to Defrost Frozen Mixed Veggies in the Microwave?
When it's time to cook the vegetables, take them out of the freezer before cooking, put on a microwave-safe dish, add a little water, and cover with the lid or a special microwaveable foil.
You can use the Defrost mode in your microwave or let the veggies microwave for 2-3 minutes.
If the ice crust on the vegetables is thick, you will need to make intervals in microwaving and stir them.
Is It Necessary to Cover Frozen Vegetables with the Lid?
Frozen vegetables are usually cooked in the microwave oven in the heat-resistant glassware with a lid.
It is really important to cover the dishes because the steam that results in the water evaporating also takes part in the cooking process.
You don't necessarily need to use the lid. A ceramic plate, plastic cover, or sticky food film should do.
After cooking, allow the vegetable mixture to sit in the microwave oven for a while to equalize the temperature.
Microwave the vegetables at 600 Watt for a minute, then take out and stir the product after the 30-second intervals until defrosted.
If you also want to cook frozen mixed vegetables, add salt, pepper, oil and other seasonings, microwave the dish for 7-9 minutes and let sit inside the microwave for 2-3 minutes.
What Are Some Frozen Vegetable Mixtures?
There are several basic vegetable mixtures that you can use as side dishes or as part of more sophisticated meals:
Ratatouille: onions, tomatoes, zucchini, carrots, and paprika
Mexican: carrots, corn, green beans, peas, corn, celery, red beans, and peppers
Hawaiian: corn, rice, peas, and pepper
Chinese: sprouts of bamboo and soy, onions, peppers, celery, green beans, corn, cabbage, and black Chinese mushroom
Rustic: potatoes, onions, broccoli, peppers, bean pods, carrots, and corn
Spring bouquet: 3 kinds of cabbage (broccoli, cauliflower, and Brussels sprouts), carrots, peas, onions, and bean pods
Mushroom soup: champignons, carrots, onions, and potatoes
For fried eggs: tomatoes, onions, paprika, zucchini, and celery.