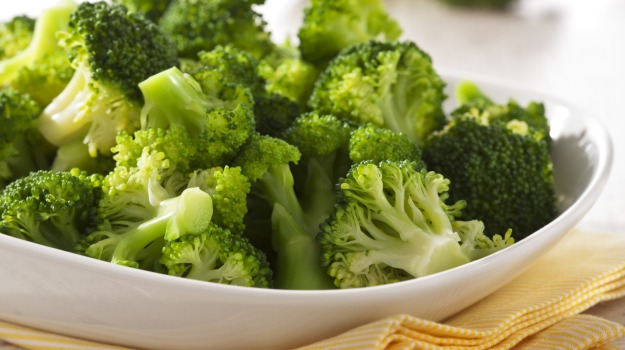 Q: "Broccoli is my baby's favorite food, – one of our followers says. – Despite being a toddler, he might feel and understand how necessary and nutritious this vegetable is for human health. I often use my stove to boil broccoli or cook a broccoli soup, and the other day I use the oven to make a souffle". Later on, we were asked that question, "Can I microwave broccoli and still preserve all of its valuable features?"
How to Microwave Broccoli Like a Restaurant Chef?
We often hear some cooks complaining that it's impossible to cook broccoli at home like at the restaurant.
That's because they get it either overdone or raw.
Now we will tell you how to cook broccoli in the microwave oven, and following this recipe you will get a great broccoli dish that will not differ from that in the restaurant.
Ingredients:
300 g of broccoli
1 teaspoon of sugar
½ a cup of water
1 teaspoon of salt
Preparation:
Boil water in a bowl (it should cover half the level of broccoli when you put the vegetable inside.)
Add salt and sugar to the water (if you ignore the latter your broccoli will get brown when cooked, whereas the sugar keeps it green.)
Now put the fresh or frozen broccoli in the water and microwave for 5-6 minutes at full power.
Please keep in mind not to cover the bowl with the lid.
Here you are a bowl of an attractive green vegetable rich in vitamins, micro, and macro elements.
Broccoli tastes very good if served as a side dish to meat, in the form of a puree, a souffle or a soup.
Can I Microwave Broccoli Under Bechamel Sauce?
The bechamel sauce makes broccoli an original and extremely delicious dish.
To cook this recipe in the microwave oven, you will need:
Broccoli – 250 g
Flour – 1 tbs
Butter – 1 tbs
Milk – 100 g
Cheese – 100 g
Salt
Curry
Preparation:
Wash well the vegetable and disassemble it.
Oil the baking form and place broccoli there.
To prepare the bechamel sauce, melt butter using the microwave, add flour, stir the mixture and microwave for 25 seconds.
The flour should become brown.
After you have poured milk in the butter and flour mixture, stir all the ingredients well and bake in the microwave oven for 3 more minutes.
Important! You must stop the microwave oven after each minute, take the broccoli out and stir well.
Sprinkle the dish with salt and curry to your taste, then grate the cheese on the top.
Pour the mixture over the broccoli and send it in the microwave oven for 5 minutes.
The broccoli is ready when it's soft. You can easily check it with a fork.
Frozen Broccoli With Cheese In the Microwave Oven
This recipe is one of our favorite because we would never fail to cook it bad. Cheese and broccoli is the perfect couple that feels so good together.
Microwave the cheese broccoli in the below-mentioned recipe to please your husband, guests or kids' tutor.
Ingredients:
Mustard – 1 tbs
Garlic – 2 cloves
Cheese – 130 g
Sour cream
Paprika
Salt
Preparation:
First of all, you do not need to defrost broccoli.
Put it in a microwave-safe bowl, pour a little drinking water and send to the microwave oven.
In order for the broccoli to become soft, choose to set your microwave at high power and microwave the broccoli for 4 minutes as an average.
After that, prepare the cheese sauce.
Mustard and sour cream should be mixed together in a separate bowl with garlic and salt.
Take out the broccoli, drain excess liquid and pour in the sauce.
To complete the dish, sprinkle broccoli with the grated cheese, and microwave for another couple of minutes.
Serve hot.