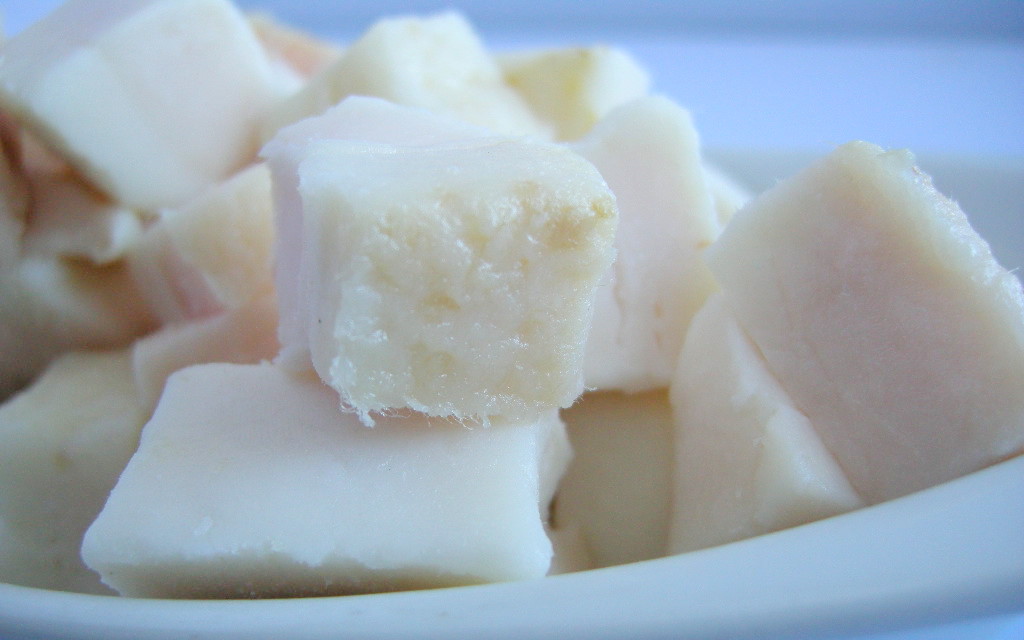 Q: Some people say that they microwave lard regularly and it's very delicious. Is it true? Won't it get melted, burn or start popping in the microwave so you'll have to clean it all getting nothing but a bad mood instead?
How to Microwave Lard?
The answer to the previous two questions is the lard can be put in the microwave oven and it won't burn your kitchen.
You just need to be very careful and follow some of the directions we'll give you to microwave lard like any other oil, butter, or bacon grease, and never spoil it.
A microwave oven is something we can't do without in the kitchen nowadays. This eases our life greatly and we can't refuse it if we need something cooked fast and still delicious.
Set low or mid temperature and enjoy cooking.
Ingredients:
Fat neck or abdominal parts with meat veins – 1 kg
Garlic – 6-8 cloves
Salt – 3 tbs
Mayonnaise 1 tbs
Bay leaf
Black pepper
Preparation:
Wash lard and dry it with a paper towel, cut to pieces (about 8-10 cm long.)
Fill the lard with garlic (make cuts from above and from the sides.)
Grate with salt and ground black pepper, spread mayonnaise with bay leaves.
Put everything in a glass saucepan, cover it (without adding water) and put it into the microwave oven for 6-10 minutes at 800 Watt.
Get out of the microwave and turn the skin up, as the pulp is slightly dried.
Cool in the same container, then in the freezer.
You cannot cook with it immediately, but leave it for 1-2 days for better impregnation with salt, spices and mayonnaise.
Spices to taste good with the lard are: dill, paprika and garlic cloves.
A small amount of melted lard can be added to soups or chilled to spread on bread.
Is Lard Healthy?
Lard is not as light and easy as vegetable oils, but if you consume it in small amounts, you will replenish Vitamin D. There's much more Vitamin D than in butter or olive oil.
Lard resists temperatures of up to 200 degrees Celsius so set your microwave at low powers to keep the lard from burning.
How to Microwave Lard with Carrot?
You might be surprised but there are so many recipes of lard in the microwave. You just need to choose your favorite and surprise your guests with culinary talents.
Ingredients:
Lard (pork with meat layer) – 350 g
Ready-made lard seasoning with salt
Big fresh carrot – 1 pc
Preparation:
Cut the lard in pieces. Fill each of them with carrot. Rub it with spices.
If you don't have the ready seasoning, then mix salt, pepper and bay leaf. Fill the lard with garlic cloves.
Put it in a baking bag and tight loosely to let out the steam (you may also use a pan with a special cover.)
Put it in the microwave oven for 5-6 minutes at 800 Watt.
It's better to take it out from the oven earlier than later, as it will still get to the readiness outside the oven.
Lard is prepared quickly with the only drawback, which is the harsh skin.
You may cool it down and put in the fridge.
Be sure that the lard will be delicious and melting in the mouth.
Can I Bake Potato with Lard in the Microwave?
This is one of the best methods of baking potato in the microwave when you are waiting for guests and need something delicious fast.
The potato baked with lard in the microwave is as easy as boiling pasta.
Follow these few steps to cook the potato with lard you have never tried before. The whole process will take you no more than 15 minutes.
If you want to know, the same dish can be cooked in the stove for about 40 minutes.
Ingredients:
Potato – 1 pc
A bunch of dill
Pork lard – 1 piece (about 10 cm)
Small onion – 1 pc
Salt
Preparation:
The main ingredients here are potato and lard. If you are short of herbs or don't have any seasoning at all, forget it. You can do well without them.
Wash potato thoroughly and peel it.
Cut potato in thick rings of 1.5-2 cm.
If your potato is small enough, cut in halves.
Cut the lard into pieces of the same size to match potato slices.
Make several cuts on each potato slice to let the lard and salt impregnate. If the lard is salted, salt the potato right away. If the lard is fresh, then salt the lard when you place it on the top.
Slice the onions into rings.
Lay one onion ring on each piece of potatoes, and lay the lard pieces on top afterwards.
Cook the dish in the microwave oven for 10 minutes at 800 Watt.
Finely chop the dill and sprinkle the potatoes.