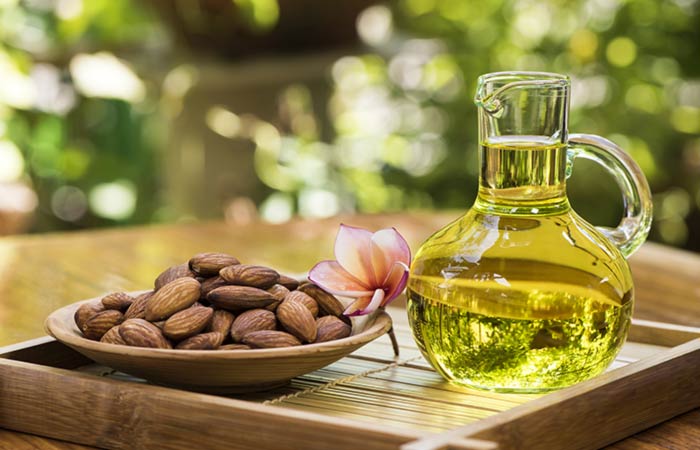 Q: We don't know if you need almond oil for a hair mask, hair growth, nails or lips, but we know exactly that almond oil will serve you well. You'll be surprised to learn that you can put your almond oil in a microwave oven and even use it after such a warming procedure. However, you should learn to do that right. You just need to ask, how can I microwave almond oil?
Why Is Almond Oil So Special?
Almond oil is one of the most ancient cosmetic products. After all, women have sought to perfect their appearance at all times.
Most of women effectively restore short and rare eyelashes now. Almond oil is best to grow, strengthen and cure eyelashes and eyebrows, because this product has a unique vitamin composition.
Аlmonds can be sweet or bitter. Oil of bitter almonds is used in medical industry while butter of sweet nut is good for cooking and perfumery. For cosmetic purposes, any composition is suitable.
How Can I Use Almond Oil?
Regular almond oil masks fight the loss of cilia
Almond oil protects the eyelashes from burnout, frost and negative effects of decorative cosmetics
It makes the eyebrows thick and straight. The hairs no longer shake and do not stick out in different directions
Almonds are used in the fight against thinning and other problems of cilia
It is the most effective way to restore the cilia after the build-up
It is the most favorite oil among women, because almond oil is lean, non-sticky and pleasant to the touch. Oil is quickly absorbed and almost leaves no traces.
If you are ready to breath in an incomparable, charming, delicate aroma of almond oil, prepare your microwave and let the show begin.
Can I Make Almond Oil Mask at Home?
Yes, sure. You can make perfect almond oil at home in a super-easy way.
Micorwave a half a cup (4 ounces) of almond oil for 20 seconds
Add 10-20 drops of your favorite essential oil
Stir thoroughly
How to Make Nails Thicker Using Almond Oil and Microwave?
Ingredients:
Chicken egg – 1 pc
Honey – 5 g
Almond oil – 5 g
Preparation: Get the chicken egg shaken very well.
Add one teaspoon of honey and almond oil.
Mix thoroughly and heat in a microwave for about 20 seconds.
You should obtain a homogeneous mass.
Cool it down to a comfortable temperature and place the nails for 15 minutes.
Use this bath twice a week.
Don't forget to do a hand massage with almond oil. For this, heat a small amount of almond oil in the microwave for 10-15 seconds and rub into the skin gently several times a week.
Remember that warm almond oil will be absorbed more quickly by the skin if warmed up.
We insist on you buying a hexan-free or cold-pressed almond oil. The reasons are its organic features. This grade of almond prevents you and your organism from many diseases.
Can I Microwave Lip Balm with Almond Oil?
Good question. If you've got honey at home, you'll easily make it for yourself or as a gift.
This is something you always need, no matter if the weather outside is hot or warm.
Follow this recipe of an easy microwave almond oil lip balm recipe.
Ingredients:
Almond oil – 100 ml
Beeswax – 50 ml
Honey – 1 tbs
Preparation:
Take a microwave safe bowl
Mix almond oil and beeswax
Microwave for 1 min at high power
Take out and stir the mixture after 40 seconds
Add honey and pour the hot liquid into several Mason jarsYou may also use some mini-jars with lids and make this lip balm a pleasant gift or use it every day at home.
Almond Oil for Daily Use
To properly conduct manipulations with almond oil, wipe the face with the composition twice a day. The first rubbing falls on the period after morning washing, the second – in the evening, 2 hours before going to bed.
To increase the efficiency of the procedure and ensure proper absorption, before use, warm up the composition in a microwave (or in a water bath.)
Warm oil is distributed at the fingertips and rubbed in the face skin in a circular motion. Almond oil will absorb completely after about 15 minutes.
If there are surpluses, remove them with a cosmetic sponge. Do not allow the product to linger on the skin, otherwise it will clog the pores and make self-cleaning difficult.